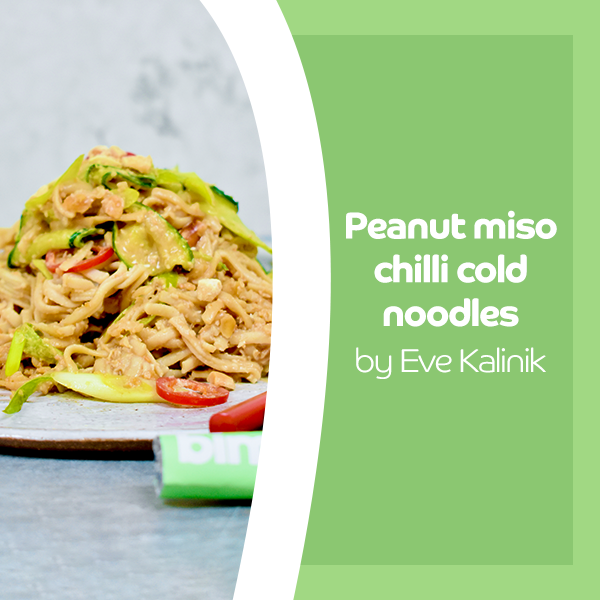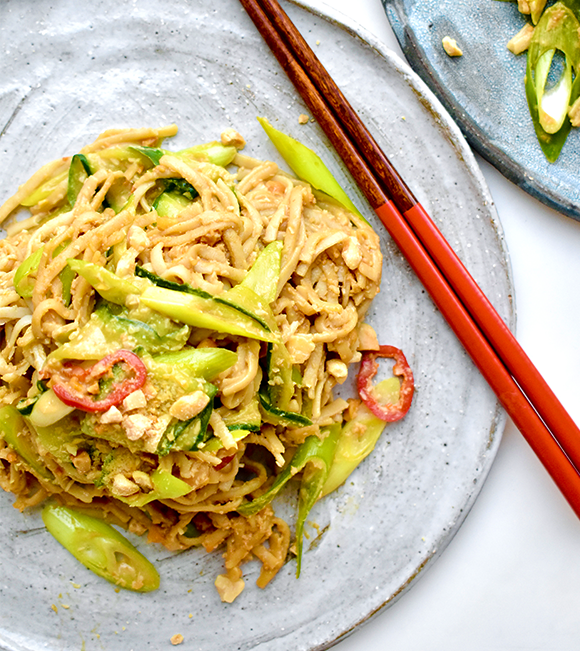 Ingredients: Noodles
150g buckwheat or brown rice soba noodles
4 spring onions, trimmed and finely sliced on the diagonal
1 cucumber, sliced into ribbons
3 tablespoons desiccated coconut
2 tablespoons chopped roasted peanuts, plus extra to finish
1 red chilli, deseeded and finely sliced
Ingredients: Sauce
3 tablespoons smooth peanut butter
1 tablespoon sweet white miso paste
1 tablespoon yuzu juice (or sub for lime juice)
1 tablespoon good quality soy or tamari/coconut aminos for gluten-free alternatives
2 teaspoons maple syrup
1 teaspoon sesame oil
1/4 teaspoon ground ginger
1 sachet Bimuno Original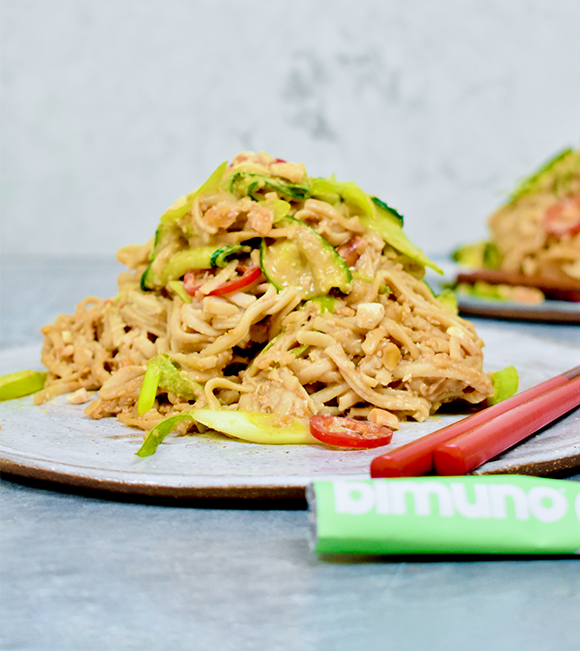 Method:
Cook the noodles according to the packet instructions. Drain, rinse with cold water and set aside to cool while you prep the vegetables.
Use a fine peeler or a mandolin and peel horizontally to create cucumber ribbons on either side. You will have the middle of the cucumber left so you can either save for other salads or you can baton and add into the bowl leaving the middle seed section. Place into a large bowl.
Prepare the spring onions & chilli and add to the bowl. Mix evenly.
Add the cold noodles, coconut and peanuts to the bowl and mix again.
Put all of the sauce ingredients together in another small bowl and mix together with 2 tablespoons of water one at a time. Add the sauce to the large bowl with the noodle ingredients and mix through thoroughly. Divide between plates or bowls and either serve on its own or add a protein topping if you choose. Sprinkle with more peanuts to finish.
Best Sellers