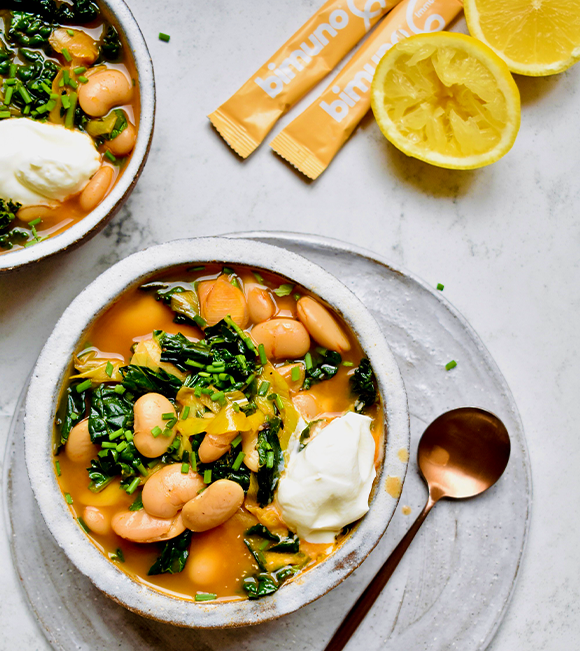 Ingredients:
2 tbsp extra virgin olive oil
2 leeks, sliced thinly on the diagonal
1 bunch (around 200g) cavolo nero, leaves removed from the stalks
1 tbsp tomato paste
1/2 tsp ground cumin
1/2 tsp smoked paprika
Pinch of chili flakes
1 garlic clove, peeled & crushed
500ml organic chicken bone broth (sub for vegetable stock for plant-based version)
1 x 400g can (240g drained) butter beans, drained and rinsed
2 tbsp chopped parsley
1 tbsp chopped chives, plus more to garnish
Juice of 1/2 lemon
Sea salt
Black pepper
2 tbsp creme fraiche (optional) to serve (omit or sub for plant-based version)
1 sachet of Bimuno
Buy Bimuno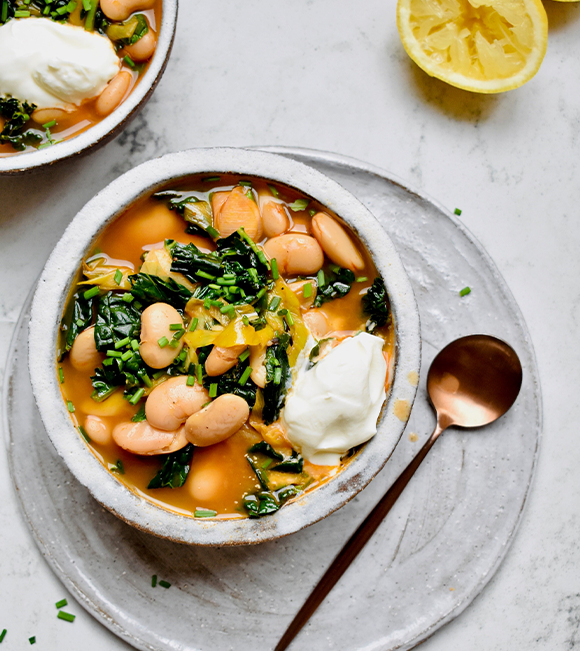 Method:
Heat a large pan over a medium heat and add the oil. Add the leeks and sauté for around 5 mins until softened.
Prep the cavolo nero by holding the end of the stalk on each leaf and pulling downwards on either side to remove the leaves cleanly. Chop into smaller bite size pieces.
When the leeks have softened add the tomato paste, cumin, paprika and chilli flakes and cook for around a minute. Then add the garlic for another minute.
Add the bone broth, contents of Bimuno sachet, beans and a couple of generous pinches of sea salt and bring to a simmer for 15 mins. Stir in the cavolo nero and simmer for a further 5 mins. Adding in a little extra water if you need to thin slightly. Stir in the parsley, chives and lemon juice.
Divide between bowls.
Finish with an extra drizzle of olive oil, a sprinkling of chives and a tablespoon of creme fraiche (if using). Serve with crusty sourdough on the side.