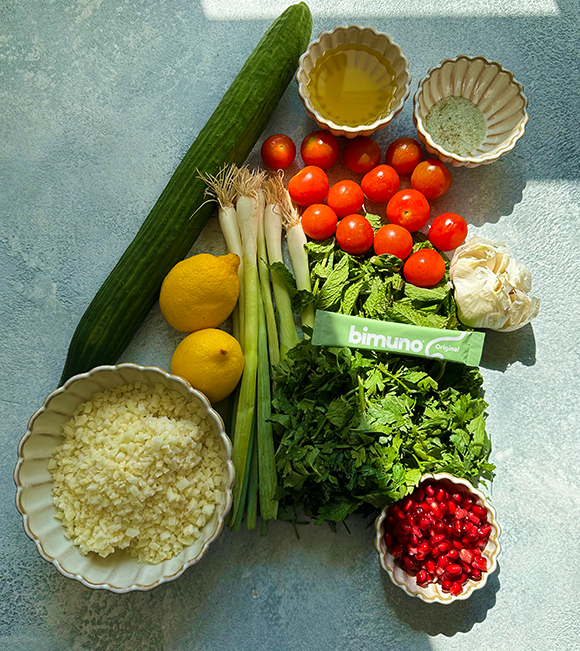 Ingredients:
30g mint
30g flat leaf parsley
300ml extra virgin olive oil
2 lemons, juiced
1tsp salt
10 cherry tomatoes, finely chopped
Half a cucumber, finely chopped
4/5 Spring onion, chopped
450g cauliflower, grated
1 sachet Bimuno Original
A handful of pomegranate seeds to finish (optional)
Buy Bimuno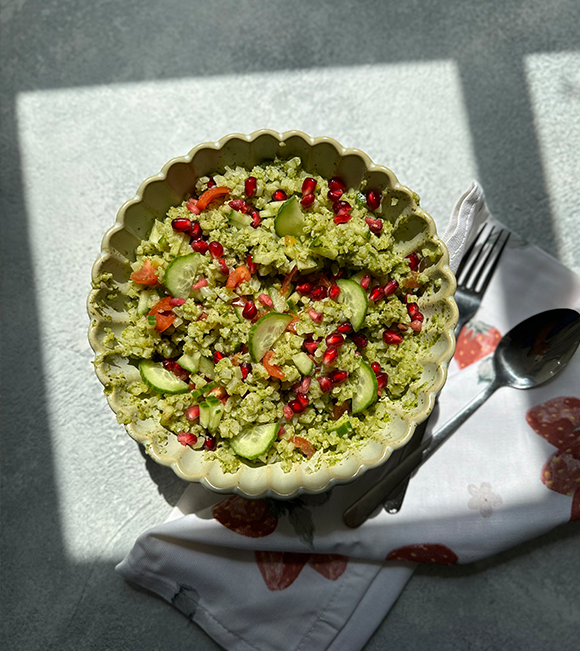 Method:
Finely chop your mint & flat leaf parsley, place into a bowl and add your salt, lemon juice and olive oil.
Grate your and cauliflower and boil for a couple minutes - you want a nice al dente finish to mimic bulgar wheat consistency that would traditionally be used here.
Melt butter or add olive oil to a pan and sauté your cauliflower rice for 8 minutes on a medium to high heat stirring occasionally. Try to make sure no water is left in your pan as you don't want soggy cauli rice!
Place into a serving bowl and add your cucumber, tomatoes, spring onions and the herbs you set aside in the first step.
Sprinkle over your Bimuno sachet and mix gently.
Sprinkle over your pomegranate seeds & serve.
Best Sellers