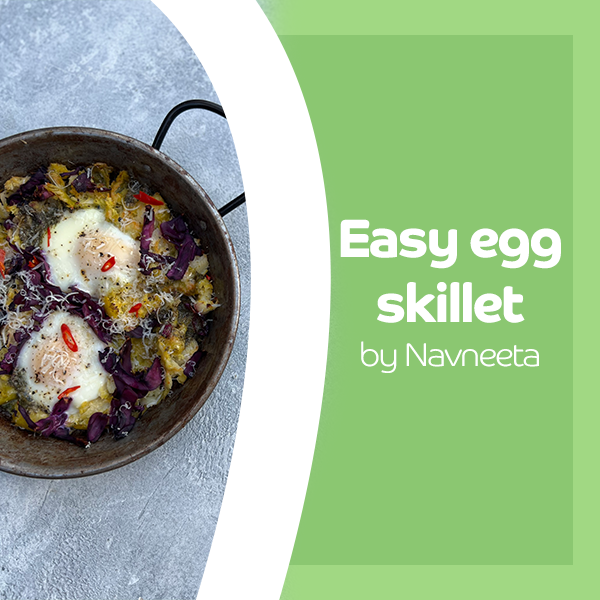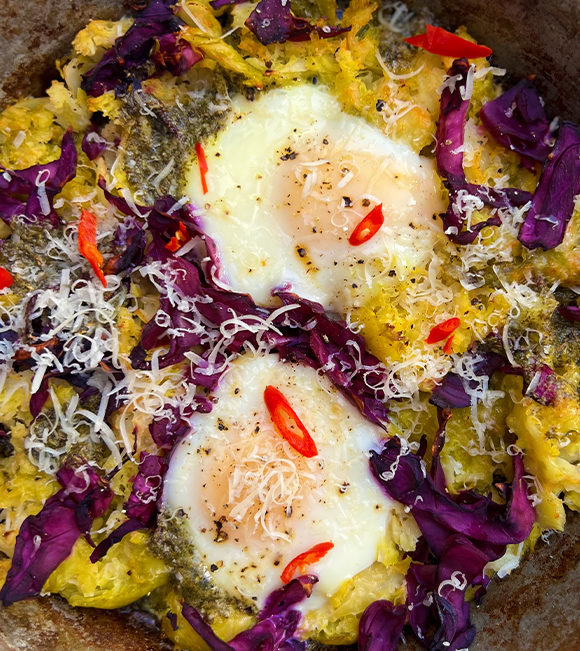 Ingredients:
3 heaped tbsp of sautéed red cabbage
10 Brussel sprouts.
1 small head of red cabbage
1 tbsp olive oil
3 tbsp apple cider vinegar or red wine vinegar
2 eggs
Season with salt and pepper
1 heaped tbsp of freshly grated Parmesan to finish
Optional: sliced chilli to garnish
1 tbsp of butter- I happen to be using a herbed butter but you can add butter with a tsp of your favourite dried herbs like thyme, basil or parsley)
1 sachet Bimuno to finish
Shop Bimuno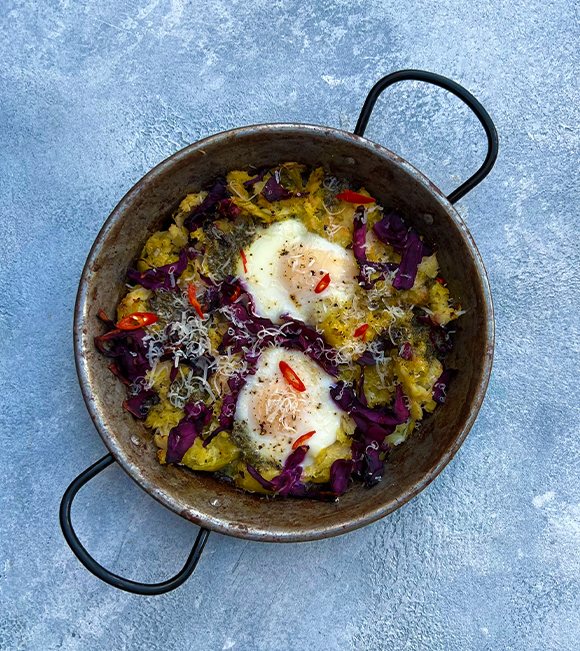 Method
Preheat your oven to 200c.
Chop/shred your head of red cabbage.
Heat olive oil in a large frying pan over medium heat. Add cabbage and your vinegar, season with salt and ground pepper. Cook, tossing frequently, until cabbage is crispy & tender, about 15 minutes (add a splash of water to soften a little quicker or if becomes dry).
Meanwhile, steam your Brussel sprouts for 10 minutes or until tender when pierced.
In your skillet, smash your Brussel sprouts with a fork to form a nice base.
Add your cabbage, sprinkling over dish.
Create two 'hole' areas to place your eggs.
Crack your eggs into the holes.
Season well.
Place any pan over your skillet and place in over for ten minutes.
The eggs will steam gently and keep its nutrient density.
Take out of oven and add your Parmesan (and chilli) .
Let cool a little and sprinkle over your Bimuno powder.